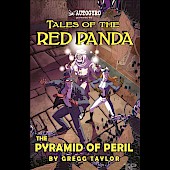 The heroes of the Red Panda Adventures return in this full-length adventure novel by Gregg Taylor.
A desperate call for help from half a world away brings our masked man of mystery far from the urban jungle he is sworn to protect. With his mentor in mortal peril, the Red Panda must battle both ancient powers and modern terrors, just to have a chance to fight for his life within… The Pyramid of Peril!
This book is available in print and e-book formats. Please see https://decoderringtheatre.com/books/pyramid-of-peril/ for more.
Download a Copy
Download a Copy