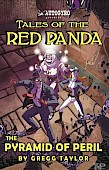 The Red Panda and the Flying Squirrel return to pulse-pounding prose adventure with this thrilling new pulp fiction novel!
A desperate call for help from half a world away brings our masked man of mystery far from the urban jungle he is sworn to protect. With his mentor, Maxwell Falconi, who once fought crime behind the mask of the Stranger, in mortal peril, the Red Panda must battle both ancient powers and modern terrors, just to have a chance to fight for his life within… The Pyramid of Peril! Heroes of All-New Radio Adventures, Pulp-inspired novels and Comic Books, the masked protectors of 1930's Toronto are back again with a two-fisted thriller sure to please. The Red Panda and his trusty sidekick the Flying Squirrel trade wisecracks and banter as they battle supernatural forces beyond mortal comprehension, and fight to keep unspeakable power out of the hands of those who would use it to enslave humanity!
Prefer e-books? Get you Kindle edition HERE Smashwords edition for other formats HERE
Please note: Books listed on this page feature characters enjoyed by Decoder Ring Theatre audiences, but are not published by or owned by Decoder Ring Theatre in any way. They are presented for your consideration and enjoyment.