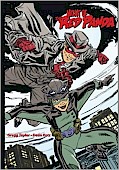 Because you demanded it! Night of the Red Panda, the second arc of Dean Kotz and Gregg Taylor's comic book casebook of the Red Panda is now collected in a new print edition!
August Fenwick, one of the city's wealthiest men, hides a secret life of adventure as his city's mysterious champion, The Red Panda. Together with his trusty driver, Kit Baxter, who joins him in his quest as the Flying Squirrel, he fights an endless battle, that all those who serve evil shall fear the Night of the Red Panda! Continuing the comic-book exploits of characters from the Red Panda Adventures, Decoder Ring Theatre's award-winning radio drama series, Red Panda: Night of the Red Panda collects the second story arc of tales originally published digitally by Monkeybrain Comics.
"Between their mastery of hand-to-hand combat and a variety of gadgets, the duo, more commonly referred to as The Terrific Twosome of Toronto, dedicate their time towards keeping the city safe from gangsters, gunmen and, of course, crazed super villains, all of whom are hell bent on exploiting the disaster-stricken people of Canada's largest city" - SEAN TEPPER, TORONTO STAR
Please note: Books listed on this page feature characters enjoyed by Decoder Ring Theatre audiences, but are not published by or owned by Decoder Ring Theatre in any way. They are presented for your consideration and enjoyment.