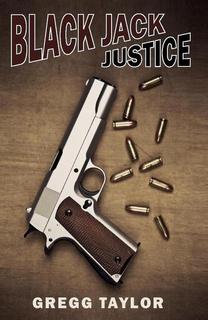 If you've been waiting with baited breath for the Hard-boiled event of the season, it's finally here! Black Jack Justice, the new mystery novel highlighting the very first meeting of a certain pair of his&hers private detectives, is here at last. Here's what some folks are saying (all taken from Amazon user reviews)
"This book reads like a hard-boiled detective novel written by the masters themselves, assuming the masters of the genre were 50% sassy femme fatale.
The story unfolds like a proper mystery, with enough twist to make any fan of mystery novels happy; but keeps a light zappy level to it's prose and especially it's dialogue that makes it a joy to read. The characters are well defined, and the universe they find themselves in well described and easy to picture while reading.""Jack meets Trixie, Trixie meets Jack and a lifelong antipathy is born. Sam Spade has a better secretary; Phillip Marlowe has a better car; and Mike Hammer has... well best not mentioned here; but none of them has the wit, humour, and banter of Black Jack Justice.""This book surprised me by being even better than Decoder Ring Theater's Black Jack Justice podcasts, and they are excellent. If you like detectives, like Crumley's Sughrue, you'll like Black Jack. Without losing the humor that helps make the podcasts so great, the novel format lets the reader see the dark/hard side of Black Jack in a way that the podcasts usually don't.
If course, if you are a fan of Decoder Ring Theater's Black Jack Justice podcasts, you will love this book. The story of how they came to work together is great, and the book is written so that you can practically hear Black Jack and Trixie reading the story to you. It is a must-read for every Black Jack Justice fan."So what are you still waiting for? Get your copy HERE