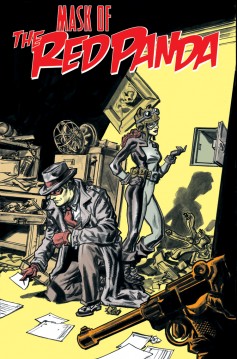 Yes, folks, I'm delighted to announce that the debut story arc of Red Panda comics, which debuted digitally to great acclaim from Monkeybrain Comics, is getting a print edition from IDW Publishing! (EDIT: The release date to Comic Shops is Feb 15th, so pre-ordering through your local comic shop may get this baby in your hands even sooner!)
HOWEVER, it seems to be turning up all over the place for pre-order through "regular" bookstores, and there are some awesome pre-order deals that I thought I would pass along.
 Oh, and did I mention that Dean is working his fingers to the bone rendering this story in an awesome Golden-Age inspired Color scheme that is absolutely blowing my mind? Because he is. Sneak peeks on that as we get closer to the day!
In the meantime, here are a whole bunch of links to Pre-Order the book and lock down an awesome price:
Are you in America? History suggests most of you are... here are a pair of links for you:
Pre-Order From AMAZON
Pre-Order From BARNES AND NOBLE
 Are you in Canada, like your ever-lovin' scribe here?
Pre-Order From CHAPTERS-INDIGO
Are you in the UK, and sick of paying heavy shipping for your Red Panda swag?
Pre-Order From AMAZON-UK
Do you live in far-off Australia? Some of you do, and I love you for it.
Pre-Order From ANGUS & ROBERTSON
Or (Reader Suggestion!) Pre-Order From BOOK DEPOSITORY
Or if you'd rather wait and support your local cool comic shop, I'm thrilled with that too... hopefully if they order one for you, they'll order another for the racks! I'll update you when the Feb soliciations come out from IDW and your local comics retailer is likely to know what you're talking about.
In the meantime, thank you all for your support of this project and for helping to make this beautiful book a (soon to be) reality!