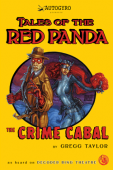 Hero Pulp Adventure novel. Paperback 172 pages. E-book and audiobook editions also available.
Book 1 in the Tales of the Red Panda pulp adventure series!
Even the united remnants of Toronto's defeated underworld could not resist the city's masked protectors. But when they join with the murderous might of some of the masked man's deadliest foes, can even the Red Panda match the strength of... The Crime Cabal?
The Tales of the Red Panda books are stand-alone adventure stories and can be read in any order. Read an excerpt and customer reviews HERE
Prefer e-books? Get your Kindle edition HERE Or other formats through Smashwords HERE
Please note: Books listed on this page feature characters enjoyed by Decoder Ring Theatre audiences, but are not published by or owned by Decoder Ring Theatre in any way. They are presented for your consideration and enjoyment.