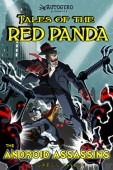 Hero Pulp Adventure novel. Paperback 152 pages. E-book and audiobook editions also available.
Book 3 in the Tales of the Red Panda pulp adventure series!
Winner of the 2011 Pulp Ark Award for Best Novel (Gregg Taylor) and Best Cover Art (Thomas Perkins)!
A city beset by the darkness and desperation of the Depression balances upon a knife edge, ready to plunge into chaos and despair. The forces of darkness have been held thus far at bay by a pair of red gauntleted fists, but on how many fronts can Toronto's masked champion fight at one time? An unseen manipulator is pulling the city's surviving businesses to the brink of collapse for his own fiendish purposes just as an old foe returns to unleash his bitter fury upon innocent lives. Who will survive the power of... The Android Assassins?
The Tales of the Red Panda books are stand-alone adventure stories and can be read in any order. Read an excerpt and customer reviews HERE
Prefer e-books? Get your Kindle edition HERE Or other formats through Smashwords HERE
Please note: Books listed on this page feature characters enjoyed by Decoder Ring Theatre audiences, but are not published by or owned by Decoder Ring Theatre in any way. They are presented for your consideration and enjoyment.