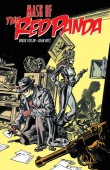 Trade Paperback Edition Comic Books. Published by IDW Publishing. 104 Pages. Available in Bookstores and Comic Shops. (or see order link, below)
The debut story arc of the acclaimed digital-first series, in a new color trade paperback edition from IDW! Written by Gregg Taylor, Art & Letters by Dean Kotz.
PLEASE NOTE WHEN ORDERING: The purchase link is for Amazon.com, but Canadians may wish to save on shipping by ordering from Chapter-Indigo HERE
Racketeers, gangsters, the occasional power-mad supervillain - all have fallen before the iron resolve of the city's masked protectors. But when forces with powers from beyond this world threaten to bring their war to the streets of Depression-era Toronto, can even the Red Panda prevent disaster? Bringing to life characters from The Red Panda Adventures, Decoder Ring Theatre's award-winning radio drama series, Mask of the Red Panda is pulse-pounding pulp perfection for all those who love the classic two-fisted adventures of the golden age of radio, classic movie serials, and the hero pulps.
- MAJOR SPOILERS PICK OF THE WEEK, Feb 12, 2014. (see full story)
"A great deal of old-time-infused-with-new-life fun... Dean Kotz's art captures the breezy, plot-centric pace that serials and pulp novels often move at, and he brings Taylor's characters to life with a wonderful balance of full-body and close-up panels which wonderfully display their surroundings and the way they fit in with the action... There is a spark to the story as a whole, which provides the heroes with emotional depth and complexity.This allows Taylor, instead of being completely beholden to and making nothing more than a pulp replica, to pay homage and have fun with the style... All in all, The Mask of the Red Panda, with its mix of nostalgic sci-fi science and ancient magic, gumshoe detective work, and rowdy brawls, is a compelling and robust adventure, and I gladly await the further exploits of its titular hero." - Tim Palmer, Fanboy Comics (read the Full Review)
"This book is so well done that I often hear a narrator speaking in my head, outlining what's going on. The art is dynamic and, in this trade, we get color added, which adds to the storytelling very nicely. The dialogue is witty and engaging, with the characters all coming to life in my imagination. Of course, these folks have already received the money I spent for the digital downloads, so they'll get double-dipping from me because I really want a paper copy to add to my collection. If you've read the digital-first editions, get the trade. And if you haven't read them yet, pick up the trade because you'll find yourself strongly drawn into the Red Panda's world of mystery and action!" - Wayne Hall, First Comics News (read the Full Review)
"I love the team that Taylor creates between the male and female superhero. Panda is more of the science nerd, while Squirrel wants to see tons of action. Both are rad fighters though and help each other out of binds. They have a flirtation throughout the story but never really show their love. They are always interrupted by magical goons or air tight elevators whisking them away to their lair... It has lots of fun with the dialogue, but still packs in the action when necessary. Don't pass this great comic up. I feel like it may get overlooked in the long run, but don't let that happen." - Samantha Roehrig - Comic Bastards (read the Full Review)
"My Top Rack: Kit Baxter aka Flying Squirrel - Flying Squirrel has all the right moves when it comes to this series. Not only can she handle her own with Red Panda's banter, make jokes in midair, but she can fight off magical creatures all while flipping her red hair out of her face. She can fly through the air with her gliders right into any situation. Even when she gets surrounding by magical creatures that look like baby dragons, she still puts on a fight. I love this chick and for the sake Valentine's Day, you should too." - Samantha Roehrig - Comic Bastards (read the Full Article)
"Gregg Taylor knows what he's doing. He's created a world that is unique, and in that world he adds a fresh perspective to familiar archetypes. The Mask of the Red Panda has a storied and strange past; going from radio play to novel to comic. And after reading it, I can only hope the Red Panda lives on, and gets even stranger." - Craig Schroeder - Florida Geek Scene (read the Full Review)
Please note: Books listed on this page feature characters enjoyed by Decoder Ring Theatre audiences, but are not published by or owned by Decoder Ring Theatre in any way. They are presented for your consideration and enjoyment.