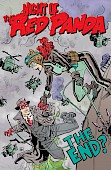 Digital Comic Books. Ongoing Releases, 2-Part Stories. Published by Monkeybrain Comics, available through Comixology.com
The Red Panda and Flying Squirrel return in this series of thrilling two-part mini-stories featuring the rogues gallery of villains and heroes of Depression-era Toronto
June 8, 2016 – "Zero Squadron pt 2 of 2"
The "Night of the Red Panda" arc comes to a jaw-dropping, barnstorming, zeppelin-stealing conclusion that packs more punch than a swarm full of robots, which we also have, just for good measure!
Enjoy the full run of "Night of the Red Panda" available now!
Please note: Books listed on this page feature characters enjoyed by Decoder Ring Theatre audiences, but are not published by or owned by Decoder Ring Theatre in any way. They are presented for your consideration and enjoyment.