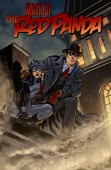 Digital Comic Book. 3 PART STORY. 32 Pages per issue. Published by Monkeybrain Comics, available through Comixology.com
Mask of the Red Panda is a three-part, pulse-pounding piece of pulp perfection written by Gregg Taylor, with Art by Dean Kotz and starring the Terrific Twosome of Toronto as you've never seen them before! A must for fans of the Red Panda radio shows and pulp novels, Mask of the Red Panda is also a perfect place for new fans to get on board.
Racketeers, gangsters, the occasional power-mad supervillain-- all have fallen before the iron resolve of the city's masked protectors. But when forces with powers from beyond this world threaten to bring their war to the streets of Depression-era Toronto, can even the Red Panda prevent disaster? Bringing to life characters from The Red Panda Adventures, Decoder Ring Theatre's award-winning radio drama series, Mask of the Red Panda is perfect for all those who love the classic two-fisted adventures of the golden age of radio, classic movie serials and the hero pulps
"...an astoundingly dense and extremely pleasing book that delivers Golden Age pulp tropes through tight writing and phenomenal art... This book does just about everything right from art, dialogue, plot, genre sensibility, and amazing price point for density of story. This is yet another breakout hit, in yet another distinct genre, for Monkeybrain Comics. "Mask of the Red Panda" is quite simply a must read." - Ryan K. Lindsay, Comic Book Resources (read the full review)
"Mask of the Red Panda is the best book I read this week, hands down. It's plot heavy, character-driven, looks beautiful and is fun in a way some comics just forget to be." - Alasdair Stuart, Bleeding Cool (read the full review)
"HIGHLY RECOMMENDED! Monkeybrain Comics' second issue of Mask of the Red Panda continues to amaze and delight readers with its vintage feel and sensibilities... The flavor of these stories is so strong and unique, but still naturalistic, that a reader might feel they've dropped into the world of Michael Chabon's Kavalier and Clay. In a time when the majors are putting their star characters through years of dark drama and psychological angst, Red Panda maintains a refreshing playfulness and charm that guarantees a fun time." - Tony Caballero, Fanboy Comics (read the full review)
"I LOVE ME SOME RED PANDA ADVENTURES! I'm going to be all over this digital only book like a fat kid on ice cream…" - Major Spoilers (read the full article)
Please note: Books listed on this page feature characters enjoyed by Decoder Ring Theatre audiences, but are not published by or owned by Decoder Ring Theatre in any way. They are presented for your consideration and enjoyment.