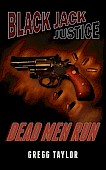 Hard-boiled detective Mystery. Paperback 196 pages. E-book editions also available.
"I KNOW WHAT YOU DID"
The writer of the mysterious letter could have been talking about any number of misdeeds, some large, some small, some frankly unsuitable for print. When it comes to deeply unqualified guardians of the moral high ground, it would be tough to find many that equaled Black Jack Justice and his erstwhile partner, Trixie Dixon, girl detective. But they will learn the hard way just how serious the sender was, and that in the end, only Dead Men Run.
The his and hers private detectives of Decoder Ring Theatre's long-running radio mysteries return to two-fisted prose adventure, delighting long-time fans and new readers alike with the classic, hard-boiled feel of their exploits.
Prefer e-books? Get your Kindle edition HERE Smashword edition for other formats HERE!
Please note: Books listed on this page feature characters enjoyed by Decoder Ring Theatre audiences, but are not published by or owned by Decoder Ring Theatre in any way. They are presented for your consideration and enjoyment.