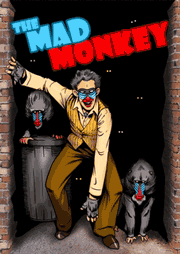 That's right, it's your big chance to hear a bad guy of your own fiendish imagination throw it down with Canada's Greatest Superhero mano et mano!
Together with our friends at TopWebComics.com we're having us a little Create A Supervillian Contest, and three lucky winners will hear their creations brought to life when the Seventh season of the Red Panda Adventures hits the airwaves!
So don't miss out on this once-in-a-lifetime chance! VisitTopWebComics.com today!
Mad Monkey artwork created by Jason at SarcasticArtist.com